MOVIE REVIEW: Pokemon Detective Pikachu

Monday, 13 May 2019
by 👨‍💻 Graham Pierrepoint


POKEMON DETECTIVE PIKACHU

Dir: Rob Letterman

Starring Ryan Reynolds, Justice Smith, Kathryn Newton, Suki Waterhouse, Omar Chaparro, Chris Geere, Ken Watanabe, Bill Nighy





3.5 STARS (out of 5)
While it may only have been a matter of time before the Pokemon franchise finally claimed itself a live-action movie all of its own, it really has been a long time coming. It's been over 20 years since the cute monster-catching videogame franchise first hit the Nintendo Gameboy, and with the hugely popular anime and scores of follow-up games continuing to rack up profitability for Nintendo, The Pokemon Company and Game Freak, there's little wonder why Pikachu and friends have hardly been out of the public consciousness.
But how does a series like Pokemon translate to the big screen? The anime has, of course, seen its fair share of feature-length adaptations over the years. This time, however, we're going live action, and the story and characters involved are loosely based on Pokemon spin-off game Detective Pikachu, strangely enough. This is a movie which has plenty riding on it – not just the interest and hopes of millions of ardent Pokemon fans, but also the fabled 'videogame movie curse'. This refers to the fact that barely any movies based on videogames have worked well in practice. Here at One News Page, we rated Rampage and Angry Birds positively – but how does Detective Pikachu measure up?
In an alternative universe where Pokemon – strange creatures which can be caught, trained and befriended – exist alongside humankind, Tim (Smith) finds himself called to Ryme City, a locale where people and monsters co-exist peacefully. Almost everyone here – except Tim – has a Pokemon partner. Tim arrives in Ryme upon hearing that his estranged father, a local detective, has passed away. However, his passing occurred under suspicious circumstances – and Detective Goodman's Pokemon partner, Detective Pikachu (Reynolds) is intent on finding out what happened. What's more, Pikachu and Tim can understand each other – which proves to be very useful when it comes to solving a potential murder mystery!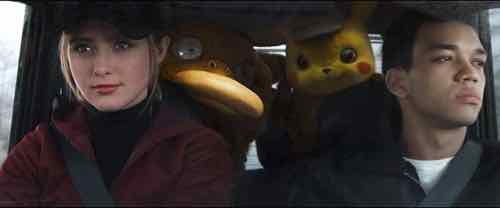 Pokemon Detective Pikachu (Warner Bros. Pictures)
Firstly, the positives – it's safe to say that Detective Pikachu is a curse-breaker. Visually, it's incredible. It's been floated for a long time as to how Pokemon could be portrayed alongside people on-screen, and the mixture of realism and cartoonishness really pulls off well. There are also plenty of recognisable creatures and characters for franchise buffs to get behind. The look of Pikachu himself is incredibly cute – and Reynolds does more than enough to really push the character to its fullest. He's a wisecracking critter with incredible gusto.
The acting, too, is on point. Justice Smith is a very capable actor and it'll be interesting to see where he heads to next – his partnership with Reynolds in the movie is, oddly enough, believable – they are a great fit for each other. Seeing Bill Nighy on-screen talking about Pokemon is something I never knew I wanted until now – and, as always, while he may not be flexing his biggest acting muscles here, he's a joy to watch. The ensemble cast, too – while they don't have too much to do – all fit together well.
Where the movie does fall down a little is the story. It's a little bit of an odd fit for a film which is supposed to be introducing us to the world of Pokemon for the first time. An adaptation of the first game's story, or even some of the anime, may have been a better route to take. In any case, while the story is pleasing enough and has plenty of twists, it's simply not original enough – and it is very predictable, even for younger viewers. As such, the movie does rather rest on the laurels of spectacle for most of the runtime. All things considered, you could probably sneak in any plot beneath these cute critters and get away with it!
It also feels a little too short – the perfect Pokemon movie should be one which focuses a little more on the wider world of creature catching and training – and while Detective Pikachu does well to put its choice of story across, it all feels a little bit haphazard. For many viewers, it may feel to be over far too soon – for many parents, however, it probably can't be over and done with soon enough! It's certainly manic and has an incredible amount of energy and optimism behind it. What's more, it does stick to the core of the franchise's principles and themes and doesn't make any glaring changes or omissions which fans would seriously gripe about.
Pokemon Detective Pikachu - Official Trailer (Warner Bros. Pictures)
Detective Pikachu is a pleasing movie which is possibly the best videogame movie adaptation released in the past 30 years (if you discount Street Fighter on being so bad it's good). That being said, there's room for improvement – and I'd generally recommend this only to die hard fans of the franchise. With Nintendo quietly working with Illumination Studios on bringing Super Mario Bros back to the big screen, could we be seeing a wave of new videogame movies released for theatres in the years to come? Are we ready for a Nintendo Cinematic Universe?
💡 One News Page Knowledge: Other News Mentions
Actor Justice Smith comes out in heartfelt Black Lives Matter post

Jurrasic World: Fallen Kingdom actor Justice Smith has 'come out' as queer, in a passionate post about the Black Lives Matter movement.
Credit: Cover Video STUDIO Duration: 00:43
Published
'New Pokémon Snap' Coming to Nintendo Switch

Nintendo announced the sequel to the N64 classic on Wednesday.
Credit: Cover Video STUDIO Duration: 00:46
Published
Unannounced New Nintendo Games Teased

Unannounced New Nintendo Games Teased
Credit: Wochit News Duration: 00:25
Published
Nintendo's Developers Face 'Big Limitations' Amid Pandemic

The gaming giant has admitted that having so many of its employees based at home during the health crisis.
Credit: Cover Video STUDIO Duration: 00:58
Published
Mike Tyson Wants to Make a New 'Punch-Out!!' Video Game

The series was launched on Nintendo's NES back in 1987.
Credit: Cover Video STUDIO Duration: 01:00
Published
GameStop Sells Out Of Replenished Stock Of Nintendo Switches

The Nintendo Switch came out three years ago but during the coronavirus pandemic it became popular all over again. According to Business Insider, the console is sold out in most retail stores. Nintendo has apologized for "any inconvenience" but said "more systems are on the way." One Tweet showed how drastic the situation was when GameStop finally had its stock replenished. While some were lucky to get one, the console was sold out almost immediately.
Credit: Wochit News Duration: 00:32
Published
Joss Whedon Accused Of 'Abusive, Unprofessional' Behavior

Joss Whedon is the director of the DC film "Justice League." Ray Fisher, the actor who played Cyborg, has slammed Whedon. Fisher took to Twitter to accuse Whedon of "gross, abusive, unprofessional, and completely unacceptable" behavior on the set of the 2017 film. Fisher also said Whedon was enabled by Geoff Johns and Jon Berg, producers at DC and Warner Brothers. Fisher did not describe the Whedon's behavior. Fisher offered no corroboration for his claims.
Credit: Wochit News Duration: 00:38
Published
Investors cautious on virus rise, jobless data

Stocks were little changed Thursday after a spike in new COVID-19 cases and stubbornly high levels of joblessness made for a skittish trading day. Conway G. Gittens has more.
Credit: Reuters Studio Duration: 02:06
Published
Warner Bros. to Host DC FanDome Event Featuring 'Batman' 'Wonder Woman' & More | THR News

Warner Bros. is creating its own event to promote its slate of comic book movies and TV shows. The studio will hold DC FanDome, which will stream for free Aug. 22 beginning at 10 a.m. PT at DCFanDome.com.
Credit: The Hollywood Reporter Duration: 01:49
Published
Ayers Dishes On 'Suicide Squad'

"Suicide Squad" director David Ayer is opening up about his troubled 2016 film. Ayer went on Twitter to discuss the movie. "This trailer nailed the tone and intention of the film I made. Methodical. Layered. Complex, beautiful and sad." According to the Wrap, Ayer says Warner Brothers executives were "shell shocked" by bad reviews for "Batman v. Superman." "My soulful drama was beaten into a 'comedy.'"
Credit: Wochit News Duration: 00:32
Published
Cavill May Come Back As Superman

Io9 reports that the DC Comic Hero gang maybe getting back together. On Wednesday, rumors surfaced that Henry Cavill will return the DC Universe as Superman. Deadline first reported the news that Cavill was in negotiations to return as Clark Kent and his alter ego Superman in a future Warner Bros. production. A Man of Steel sequel is not in the works, nor would he come back for a standalone film. No Superman films are slated in the coming years.
Credit: Wochit News Duration: 00:35
Published
You Might Like
Tweets about this
•More original news reports from One News Page