John F. Kelly
Former White House Chief of Staff and Former United States Marine Corps General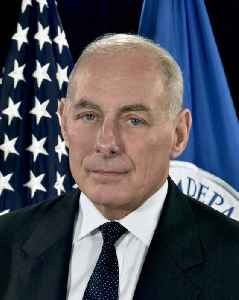 John Francis Kelly is a board member at Caliburn International and a retired U.S. Marine Corps general who served as the White House Chief of Staff for President Donald Trump from July 31, 2017, to January 2, 2019. He had previously served as Secretary of Homeland Security in the Trump administration.


Trump denies calling war dead 'losers' and 'suckers'

US President Donald Trump has dismissed as a 'hoax' an Atlantic magazinearticle claiming he called US war dead 'losers' and 'suckers' in November2018, as he was set to visit the Aisne-Marne American..
Credit: PA - Press Association STUDIO Duration: 01:12
Published
You Might Like
Search this site and the web: