Wycombe Wanderers F.C.
Association football club in England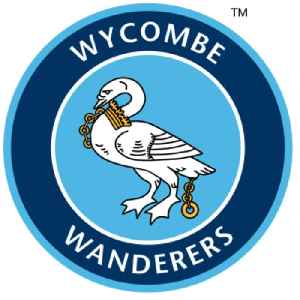 Wycombe Wanderers Football Club is a professional association football club based in the town of High Wycombe, Buckinghamshire, England. The team compete in the Championship, the second tier of the English football league system. They play their home matches at Adams Park, located on the western outskirts of High Wycombe, having moved after 95 years at Loakes Park in 1990. The club traditionally plays in quartered shirts of navy and pale blue. The club's nicknames are "The Chairboys" and "The Blues".


You Might Like



Scholes frustrated as Wycombe break net - EFL round-up

Paul Scholes suffers defeat in charge of Salford, while a broken goal net is among other things you may have missed in the EFL.




BBC News - Published





Wycombe Wanderers: The 'rejects' behind their rise to the Championship

A vision from god, an arthritic centre-back and a reformed character - the players behind Wycombe's rise to the Championship.




BBC News - Published





Championship fixtures 2020-21: Wycombe Wanderers host Rotherham United in opener

Wycombe will host Rotherham in their first ever match in the Championship on the opening weekend of the 2020-21 season.




BBC News - Published





EFL fixtures released - Watford host Middlesbrough, Wycombe start at home to Rotherham

Wycombe will host Rotherham in their first-ever match in the Championship on the opening weekend of the 2020-21 season.




BBC News - Published





Wycombe Wanderers promotion: 'You can feel it in the town'

High Wycombe residents hope their football team's play-off success helps the town off the pitch.




BBC News - Published





Gareth Ainsworth: Wycombe Wanderers boss and The Cold Blooded Hearts singer says promotion is side's 'greatest hit'

Football manager and rock band singer Gareth Ainsworth says Wycombe have achieved their own 'greatest hit' by reaching the Championship.




BBC News - Published





Wycombe promoted to Championship for first time in club's history

Wycombe win promotion to the Championship after beating Oxford in the League One play-off final at Wembley.




BBC News - Published





Wycombe edge past Oxford to secure historic promotion to Championship

Wycombe win promotion to the Championship after beating Oxford in the League One play-off final at Wembley.




BBC News - Published





Wycombe Wanderers 2-2 Fleetwood Town (agg: 6-3): Chairboys to face Oxford in final

Wycombe Wanderers withstand a brave display from Fleetwood Town to reach the League One play-off final.




BBC News - Published





League One play-off preview: Fleetwood not out of Wycombe tie, says Barton

Boss Joey Barton insists Fleetwood can turn around their League One play-off semi-final against Wycombe, despite trailing 4-1.




BBC News - Published





Fleetwood Town 1-4 Wycombe Wanderers: Gareth Ainsworth's side take control of play-off semi-final

Wycombe thrash nine-man Fleetwood in a breathtaking League One play-off semi-final which sees three goals in the first six minutes.




BBC News - Published





Wycombe Wanderers fan Mark Bird dies after falling ill at ground

Mark Bird, 62, suffered a heart attack at Adams Park and was flown from the stadium to hospital.




BBC News - Published





Gareth Ainsworth: Wycombe Wanderers boss on longevity and his Christmas single

Wycombe boss Gareth Ainsworth talks adversity, dreams and Christmas singles - 10 years after first joining the club.




BBC News - Published





Tranmere v Wycombe: Fan arrested after Ryan Allsop reports homophobic abuse

A supporter is arrested after Wycombe keeper Ryan Allsop reports alleged homophobic abuse during their win at Tranmere on Sunday.




BBC News - Published





Wycombe Wanderers takeover: Rob Couhig deal approved by Trust vote

American lawyer Rob Couhig's takeover League One side Wycombe Wanderers is set to go ahead.




BBC News - Published





Millwall: Adam Barrett, Gary Rowett and Gareth Ainsworth in frame for manager's job

Millwall are considering Adam Barrett, Gary Rowett and Wycombe boss Gareth Ainsworth to fill their managerial vacancy.




BBC News - Published





Joe Jacobson: Wycombe Wanderers left-back officially awarded set-piece hat-trick

After Joe Jacobson's set-piece hat-trick is confirmed by the Dubious Goals Panel, BBC Sport looks at one of football's most unusual trebles.




BBC News - Published





Bolton Wanderers: Club travel with just three senior outfield players before season opener

Bolton travel with just three senior outfield players for their League One opening game against Wycombe on Saturday.




BBC News - Published





Bolton have only three senior outfield players for opening league game

Bolton travel with just three senior outfield players for their League One opening game against Wycombe on Saturday.




BBC News - Published





Bury v MK Dons called off by EFL but Wycombe v Bolton to go ahead

Bury's opening League One game against Milton Keynes Dons on Saturday is suspended by the English Football League.




BBC News - Published