Hatton Garden
Street and area in Holborn, Camden, north London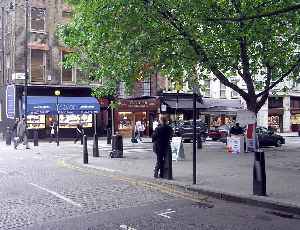 Hatton Garden is a street and commercial area in the Holborn district of the London Borough of Camden, close to the boundary with the City of London. It takes its name from Sir Christopher Hatton, a favourite of Queen Elizabeth I, who established a mansion here and gained possession of the garden and orchard of Ely Place, the London seat of the Bishops of Ely. It remained in the Hatton family and was built up as a stylish residential development in the reign of King Charles II.


Hatton Garden thief John "Kenny" Collins sent back to jail
John "Kenny" Collins was sentenced to another 2,309 days but told he would serve half of the time.
BBC News - Published
Hatton Garden burglar jailed for extra seven years after failing to pay back £7.6m of stolen goods
A ringleader of the Hatton Garden heist has been jailed for another seven years for failing to pay back £7.6m.
Independent - Published
'I am not a monster': The Kray twins' hitman on how he survived a life of crime
'Godfather of British crime' Freddie Foreman speaks to Dan Bilefsky about turning down the Hatton Garden heist, what the Krays were really like, and how he's the 'last one left'
Independent - Published
Hatton Garden ringleader 'Basil' sentenced to prison four years after burglary
Prosecutors allege alarm specialist posed as BT engineer to tamper with security system
Independent - Published
Final Hatton Garden raider 'Basil' guilty of conspiracy to burgle
Alarm specialist Michael Seed had denied being the mysterious "Basil" in the 2015 safe deposit raid.
BBC News - Published
Arrest over builder's death in Hatton Garden
John Woodward was found dead on the roof of a building in Hatton Garden, where he was working.
BBC News - Published
You Might Like