Jerry Bruckheimer is producing the upcoming sequel starring Tom Cruise.
Digital Spy on September 9, 2014

Cruise will return as Pete "Maverick" Mitchell, now an old-school pilot fighting to prove humans are not obsolete in age of machines Video: Tom Cruise on Top Gun sequel Tom Cruise will compete..
guardian.co.uk on April 2, 2014
Videos for "Top Gun Sequel"
In this edition, we highlight "Sesame Street" character Snuffleupagus and "Good Morning America" anchor George Stephanopoulos having a moment, "Fox & Friends" anchors discussing Tom..


Source: TV Replay - on September 12, 2014



Jerry Bruckheimer has been talking about his plans for a potential Top Gun sequel, stating that the proposed film will tackle the issue of drones, while star Tom Cruise has said that the film is edging..


Source: IGN - on March 31, 2014



Tom Cruise interviews tend to be packed full of helpful maxims about how best to live your life but can you spot the difference between Tom's words of wisdom, and those found between the pages of a..
guardian.co.uk on April 1, 2014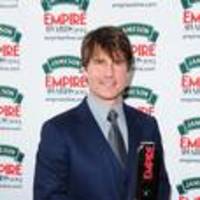 Tom Cruise is set to battle robotic drones in the Top Gun sequel, Jerry Bruckheimer has revealed.
Belfast Telegraph on April 1, 2014
Search this site and the web: