An ex-JetBlue pilot is suing the airline company for allowing him to fly despite his mental condition. On March 27,2012, Clayton Osbon had a mid-air breakdown. He ran through the aisle of the airplane..
Showbiz Spy 2 weeks ago

Clayton Osbon files $14.9m suit saying JetBlue made no effort 'to ensure that he was fit' for work despite warning signs exactly three years ago A former JetBlue Airways Corp pilot whose midair..
guardian.co.uk 3 weeks ago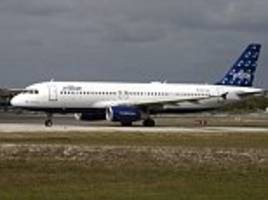 After being given clearance to depart, JetBlue flight 1295 was rolling down the tarmac at full speed when a Caribbean Airlines plane crossed into its path without authorisation, said officials.
MailOnline on January 19, 2015
Search this site and the web: