Bahrain government 'confident' Grand Prix will not be disrupted


Sunday, 22 April 2012

*The Bahraini government is confident its security measures will prevent pro-democracy demonstrators disrupting Sunday's controversial Grand Prix.*

Violent clashes between protesters and security forces have intensified since the Formula 1 circus arrived in the country, and activist Salah Habib Abbas was reportedly shot dead by police in one confrontation.

Protesters and police have clashed ahead of the Bahrain Grand Prix (AFP/Getty Images)

Around 50,000 anti-government demonstrators have gathered in the capital Manama ahead of the race, but the authorities have taken steps designed to prevent them travelling to the circuit in Sakhir, around 25 miles away.

The road to the race track is lined with barbed wire and armoured vehicles.

Fahad al Binali, a spokesman for the Bahrain Information Affairs Authority, said he believed the security services would cope with any attempt to disrupt the race itself.

'Guaranteeing is difficult, but we have the best measures in place. I'm very confident and assure everybody about safety,' he said.

Foreign secretary William Hague has called on the Bahraini government to show 'restraint' in dealing with the protests, while Labour leader Ed Miliband said the Grand Prix should be cancelled because of the ongoing concerns about human rights abuses in the state.

Mercedes team boss Ross Brawn responded by questioning why the politicians had waited until the last minute to raise their objections.

He said: 'I find it very frustrating that politicians in the UK were saying we should withdraw once we got here. Why didn't they say anything beforehand?

'For somebody to try and make Jenson Button or Lewis Hamilton determine the foreign policy of the country is wrong.'

The 2011 race was cancelled after international criticism of the violent response to Bahrain's pro-democracy protests.
Source: Newsy.com - on April 20, 2012

The arrival of the Formula One event to Bahrain has put the spotlight back on a country where protests are ongoing.
Recent related news

Three in a row for Hamilton as Mercedes rule roost in China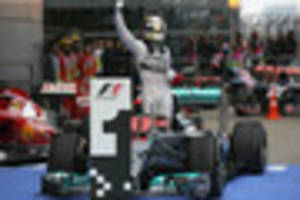 Lewis Hamilton chalked up three successive victories for the first time in his Formula One career with a lights-to-flag cruise at the Chinese Grand Prix on...
Western Morning News 5 days ago - Sport

Formula One: Lewis Hamilton makes it a hat-trick of Grand Prix...
LEWIS Hamilton chalked up three successive victories for the first time in his Formula One career with a lights-to-flag cruise in China. The race at the Shanghai...
Derby Telegraph 5 days ago - Sport

Smaller F1 teams fear loss of cost caps will lead to 'meltdown'
Hard on the heels of the brilliant Bahrain Grand Prix, in which Lewis Hamilton's narrow victory over Mercedes team-mate Nico Rosberg undermined criticism that...
Independent 1 week ago - Sports
You Might Like
Other recent news in UK
Twitter
Comments
comments powered by