Steam Box News: Release Date, Price, Specs, Controller for Steam Machines

Friday, 10 January 2014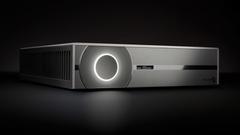 The latest Steam Box news includes many details people have been waiting for–including price and specs for the Steam Machine.

Valve announced 13 different partners recently, and with that announcement came specifics about the different models–and pictures.

Below are some …

The post Steam Box News: Release Date, Price, Specs, Controller for Steam Machines appeared first on The Epoch Times.
You Might Like
Other recent news in Technology
Twitter
Comments