Man jailed for life over murder
BBC Local News: Tees -- A man is jailed for life for the murder of a man whose body was found in woodland close to the A1 motorway near Darlington.
BBC Local News 1 day ago - UK
Also reported by •MailOnline

Cold-blooded killer who shot a man dead in front of his fiance as they drove together to a wedding fair jailed for life after second murder trial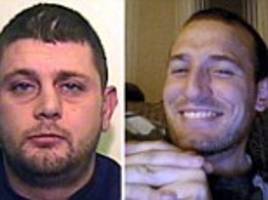 Robert Knott, 33, pictured, of Altrincham, Greater Manchester, shot student Kevin Bond, 30, in broad daylight with a sawn-off shot gun in September 2010.
MailOnline 1 week ago - Front Page

Joseph Starzacher's attacker Adam Cross may be out in eight years
A man found guilty of murder when his victim died three years after a vicious attack in Wiltshire could be freed from jail within eight years, it emerged...
Western Daily Press 1 week ago - UK